Offgrid Cabineer, N.E. Ontario, Canada
Joined

Oct 29, 2019
Messages

5,609
Location
SOURCE:
https://www.artofmanliness.com/articles/37-conversation-rules-for-gentleman-from-1875/
37 Conversation Rules for Gentlemen from 1875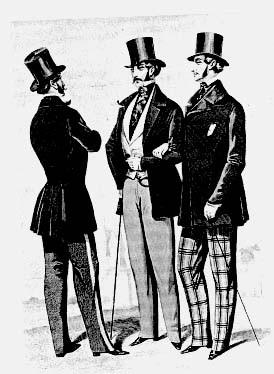 Editor's note: The excerpt below comes from a book published in 1875:
A Gentleman's Guide to Etiquette
by Cecil B. Hartley. Hartley's rules may be over 100 years old, but they're just as true today as they ever were. There are some real gems here — some of which truly gave me a chuckle.
1.
Even if convinced that your opponent is utterly wrong, yield gracefully, decline further discussion, or dexterously turn the conversation, but do not obstinately defend your own opinion until you become angry…Many there are who, giving their opinion, not as an
opinion
but as a
law,
will defend their position by such phrases, as: "Well, if
I
were president, or governor, I would," — and while by the warmth of their argument they prove that they are utterly unable to govern their own temper, they will endeavor to persuade you that they are perfectly competent to take charge of the government of the nation.
2.
Retain, if you will, a fixed political opinion, yet do not parade it upon all occasions, and, above all, do not endeavor to
force
others to agree with you. Listen calmly to their ideas upon the same subjects, and if you cannot agree, differ politely, and while your opponent may set you down as a bad politician, let him be obliged to admit that you are a
gentleman.
3.
Never interrupt anyone who is speaking; it is quite rude to officiously supply a name or date about which another hesitates, unless you are asked to do so. Another gross breach of etiquette is to anticipate the point of a story which another person is reciting, or to take it from his lips to finish it in your own language. Some persons plead as an excuse for this breach of etiquette, that the reciter was spoiling a good story by a bad manner, but this does not mend the matter. It is surely rude to give a man to understand that you do not consider him capable of finishing an anecdote that he has commenced.
4.
It is ill-bred to put on an air of weariness during a long speech from another person, and quite as rude to look at a watch, read a letter, flirt the leaves of a book, or in any other action show that you are tired of the speaker or his subject.
5.
In a general conversation, never speak when another person is speaking, and never try by raising your own voice to drown that of another. Never assume an air of haughtiness, or speak in a dictatorial manner; let your conversation be always amiable and frank, free from every affectation.
6.
Never, unless you are requested to do so, speak of your own business or profession in society; to confine your conversation entirely to the subject or pursuit which is your own specialty is low-bred and vulgar. Make the subject for conversation suit the company in which you are placed. Joyous, light conversation will be at times as much out of place as a sermon would be at a dancing party. Let your conversation be grave or gay as suits the time or place.
7.
In a dispute, if you cannot reconcile the parties, withdraw from them. You will surely make one enemy, perhaps two, by taking either side, in an argument when the speakers have lost their temper.
8.
Never, during a general conversation, endeavor to concentrate the attention wholly upon yourself. It is quite as rude to enter into conversation with one of a group, and endeavor to draw him out of the circle of general conversation to talk with you alone.
9.
A man of real intelligence and cultivated mind is generally modest. He may feel when in everyday society, that in intellectual acquirements he is above those around him; but he will not seek to make his companions feel their inferiority, nor try to display this advantage over them. He will discuss with frank simplicity the topics started by others, and endeavor to avoid starting such as they will not feel inclined to discuss. All that he says will be marked by politeness and deference to the feelings and opinions of others.
10.
It is as great an accomplishment to listen with an air of interest and attention, as it is to speak well. To be a good listener is as indispensable as to be a good talker, and it is in the character of listener that you can most readily detect the man who is accustomed to good society.
11.
Never listen to the conversation of two persons who have thus withdrawn from a group. If they are so near you that you cannot avoid hearing them, you may, with perfect propriety, change your seat.
12.
Make your own share in conversation as modest and brief as is consistent with the subject under consideration, and avoid long speeches and tedious stories. If, however, another, particularly an old man, tells a long story, or one that is not new to you, listen respectfully until he has finished, before you speak again.
13.
Speak of yourself but little. Your friends will find out your virtues without forcing you to tell them, and you may feel confident that it is equally unnecessary to expose your faults yourself.
14.
If you submit to flattery, you must also submit to the imputation of folly and self-conceit.
15.
In speaking of your friends, do not compare them, one with another. Speak of the merits of each one, but do not try to heighten the virtues of one by contrasting them with the vices of another.
----------------​