I am in the process of sizing the breaker/ fuse between my Growatt SPF5000 TL HVM inverter and my 48v Lifepo4 280AH 16s battery box.
The system will be initially set up as a UPS only but later I will add PV panels and then at a final stage (after I expand the property) another bank of batteries and another Growatt in parallel. So initially I am oversizing on a few things with a view to the end plan (e.g. I am running 2/0 AWG wire between the battery and my BMS has a peak capacity up to 200A). This is a remote property constantly impacted by grid outages of 3 to 4 hours max and consumption on site is generally very stable at
<
6kwh per day.
There are just the two leads coming from the battery direct to the inverter and it is my intent to insert a Class T Fuse on the battery positive as well as a VDC breaker.
The two items I am considering are:
T Fuse = Eaton Bussmann 250A 300Vac IR200Ka
JJN-250 - Eaton Bussmann series JJN fuse, Current-limiting very fast acting fuse, VFD line protection, 250 A, Class T, Non-indicating, Bolted blade end x bolted blade end, 20 kAIC at 160 Vdc,200 kAIC at 300 V, Standard, 1, 300 V, 160 Vdc
www.eaton.com
Schneider VDC breaker = LV438670 160A 240Vac SP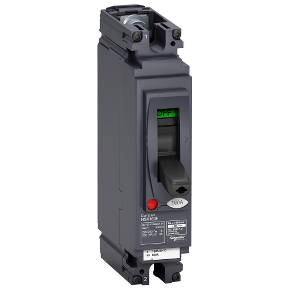 Schneider Electric Thailand. LV438670 - circuit breaker ComPact NSX160F AC/DC, 18 kA at 240 VAC, TMD trip unit 160 A, 1 pole 1d.
www.se.com
I went with this breaker because it has external posts on the back of it which can accommodate larger lugs/ wire. One prob I see with 2/0AWG wire is that the lugs are big and not necessarily accommodated on all breaker types.
I guess some people will ask why a fuse as well as a breaker. Well according to what I have read on this forum the T Fuse is very safe and I also wanted a disconnect switch so I went with a breaker in lieu of a switch so as to give me double protection. The T Fuse will be as close to the positive side of the battery as possible.
Do these specs look OK? If possible I want to stay with Schneider brand as it is available here in Thailand.
Thanks for any advice.