I've got one of these for sale: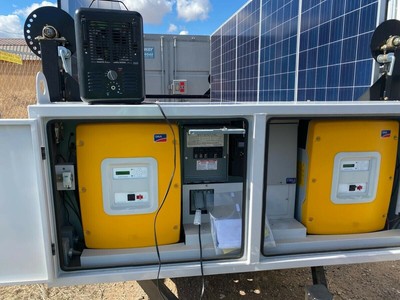 Find many great new & used options and get the best deals for Mobile Solar Powered Generator Trailer at the best online prices at eBay! Free shipping for many products!
I picked it up at the DC Solar auction. Currently in San Tan Valley, AZ.
I'm willing to part it out or ideally sell the whole thing in one go.
The batteries look good. Cleaned it up, swapped tires and tested it out.
I was originally using it for myself and decided to buy ones closer to me and sell these.
96 GNB Flooded Classic Platinum tubular industrial batteries 468 AH capacity 48 volt,
(10) Talesun Solar Module Type: TP660P-235 235 watt solar panels,
(2) SMA Sunny Island model 6048-US-10 single phase battery inverters,
MidNite Solar Classic 250 charge controller,
MidNite Solar MNGP Classic controller display,
MidNite Solar Photovoltaic Combiner breaker box,
Homeline Load Center breaker box,
(4) 110 volt plug ins,
(2) Hubbell 220 volt output plugs,
Carson 9,995 lb. GVW tandem axle trailer with electric brakes, pintle hitch or ball. Your choice.
Tell me what you want and make an offer. I'd like to get my money back and throw some to my friend for getting it all done.
Ideally I'd sell most of it to one person. Can deliver or ship possibly.