Greetings all. Have been looking for Group 31 size equivalent Lifepo4 batteries for my motorhome. Thusfar have only found these DigiMarker batteries on Ebay with a stated capacity of 135AH each. Am curious if anyone has experience with these batteries or any other ~ 135AH rated Lifepo4 batteries. My reason for looking at these is that 2 of them should fit perfectly in the existing Kwikee slide out battery tray compartment on the MH which would maximize the capacity of the existing space by adding an extra 70AH of capacity over using the "standard" 2x100AH Lifepo4 batteries wired in parallel configuration (270AH vs 200AH).
Thank you for your consideration.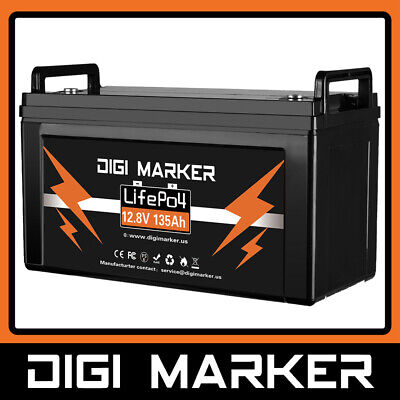 Find many great new & used options and get the best deals for 135Ah 12V Lithium Iron Battery LiFePO4 Deep Cycle Recycle Solar 4WD RV IP65 BMS at the best online prices at eBay! Free shipping for many products!