Good Lord some of you are so full of yourself. treating people like that is a good way to get them to go to other forums there by hurting the forumowner who provides this little arena that you like to preen yourself in.

To the OP: Get a killowatt and do a power audit. there are threads that explain this. search: how to do a power audit?

Once you have those numbers you can move onto the next stage which would be asking for suggestions on an inverter to power what you have (or possibly what you plan to have if upgrades are on the horizon.)

From their would be determining size of battery bank to power (how many hours/days/?? without solar input or genset running.

Last would be size of PV array to charge said batteries. what time frame, location of array solar inclination etc.
Thanks, K. I appreciate that.
I've been looking at assembled systems. They don't look to be much higher than just the components, they're just heavy. Even so I can work around that. During the summer in Texas I estimate we use about 60kwh a day. Thats pretty much just adding (2) window unit ac's to my winter consumption. I'm leaning toward the system in the attached link. Don't know if there are cons to stacking in my case. Right now we power the house just fine in the summer with a 7kw generator and in the winter we do it with a 5kw. Our big power surge is the well pump (230v split phase) but I estimate its only on around 40 mins a day, tops. Inverters seem to have much higher surge capacity than a typical generator so that's a plus. What I'm struggling with is total amp hour of battery storage that I need, and the number of panels. I'm leaning toward (16) 330w panels and (8) 48v batteries (amp hours / brand, etc. to be determined). I have plenty of space in the pasture and could bump to more panels and batteries if need be.
Thanks again for the positive feedback. I've found this site to be quite helpful and the people very patient with my ignerntz.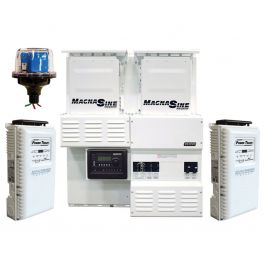 Prewired & Assembled Magnum Energy 8,800 Watt 48 Volts DC 120/240 Volts AC Power Panel With Two PT-100 Charge Controllers & Automatic Generator Start. Custom Built By Northern Arizona Wind & Sun.

www.solar-electric.com
GO ASTROS!