Joined

Feb 4, 2021
Messages

1
Hey guys, I have been following Will and watching the channel for a while. However I noticed a new battery pop up on Ebay and Amazon. It is a Global Power 12V100AH LIFEPO4.
12.8 V, 100ah Discharge, 200ah Max, 50ah charge at 14.4-14.8v, charge temp 0-45C, discharge temp -20C-65C. Seems like a fit for my Marine application on my boat. Can be paralleled for 24V, 36V or 48V use, can be placed in series for 4S. Seems like a better battery than most on the market today. Even if it really only gives you 70-80AH each, I think it would work.
Yes, yes,... I know you can build your own cheaper. I am contemplating building a 280AH cell, 4P4S for my boat but these batteries in their nice sealed cases are making me sweat!
Yes, I have seen Will tear apart many similar batteries with similar claims, but this is a new level of affordability for LiFePo4. $399!
<$380 if you buy two or more. Wow. Would love to see Will tear one of these down, but I am tempted to buy 4 for my boat. $1516 shipped for 12.8V 400AH Lithium battery bank.
Thanks for your thoughts and knowledge in advance!
Links to the batteries below: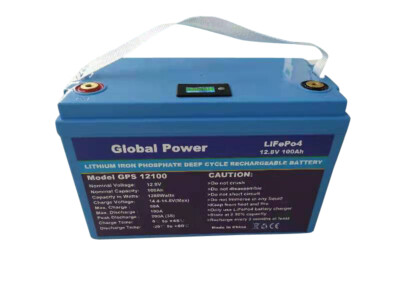 Buy Global Power 12V100AH LiFePO4 Lithium Battery for Powerwall Solar RV Boat OFFGRID Golf CART: Batteries - Amazon.com ✓ FREE DELIVERY possible on eligible purchases
Last edited: