Joined

Nov 2, 2021
Messages

1,647
Location
I'm new here, starting a new thread on my 430W installation, so I can ask questions when they come up. This forum has been a wealth of information.
I have also been scouring the 'net for, and learning about, LiFePo4 batteries as well.
I'm not sure where I first saw strut channel mounting for panels, maybe it was youtube. There was some good info on another thread here as well. Anyway, after scrutinizing what I had room for on my motorhome roof, and what might be viable options, I settled on the cheap stuff from home depot. 3 ten foot lengths gave me two channels each for my 58" solar panels - and crossbars to bolt the panels to. These are the 1-5/8" X 13/16" electro-galvanized strut channel. Funny, I had never heard of strut channel before this project. There it was, in stock at good ol' home depot. They had the 1/4-20 channel nuts in stock too, they are really slick. The rest of the fasteners are stainless. I used blue locktite for all of the mounting screws to make sure they didn't come loose.
I cut and painted the rails, and the channel nuts, then glued the rails down with VHB 5952, plus three #14 self-tapping screws in each rail. I tried picking one rail up to re-position it a smidge after just setting it down, and it was going to be a battle so I left it. Now I know that stuff sticks like you know what.
This is a 16yo Winnebago/Itasca - it has a fiberglass roof, which is very thin, and bonded to very thin luan plywood. It's in good shape though, and cleaned up well with acetone and a scotchbrite pad, then alcohol. Then stuck the rails.
The panels are 215W 36-cell, brand Nature Power - HD sells them now, and had a one-day sale recently for $154 each. I couldn't pass that up at 71cents a watt. I also got a Tracer Xtra 30A controller, and all the ancillary cables and fuses and connecting hardware. Wiring and SCC installation is next.
I found some wind loading calculations here in wiki - could be up to 250lbs of lift for these size panels, and elsewhere some tensile strength for glazing with 3M VHB. With those estimates I have about a ten-times margin of strength. For glazing they use 18psi on the VHB, and I have 180square inches of adhesion area, so I figure I'm good. Ran some screws in there to make sure.
Cut to size and painted with automotive acrylic enamel. Painted the nuts too: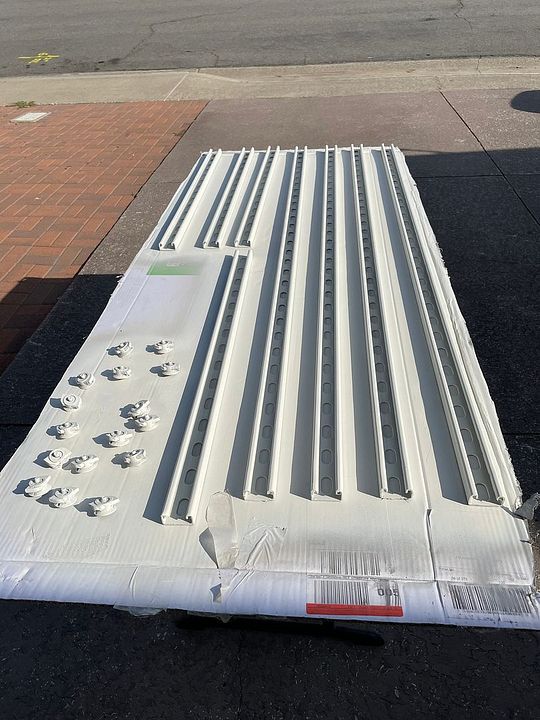 I covered up the slots in the channel with eternabond, and sealed the outer edges and screw heads with Sika urethane sealant. I froze the eternabond and then cut the 2" roll into 1" strips. Worked out really well. 1" tape is backordered 'till next year.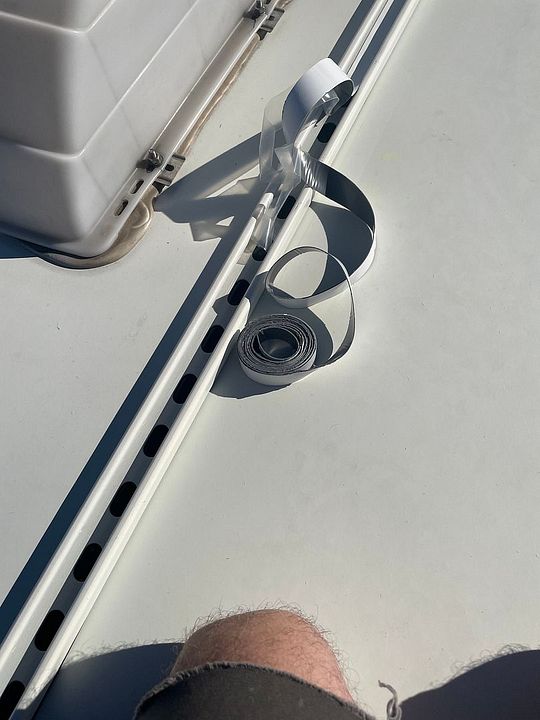 Sealed and mounted. Happy with the way this turned out: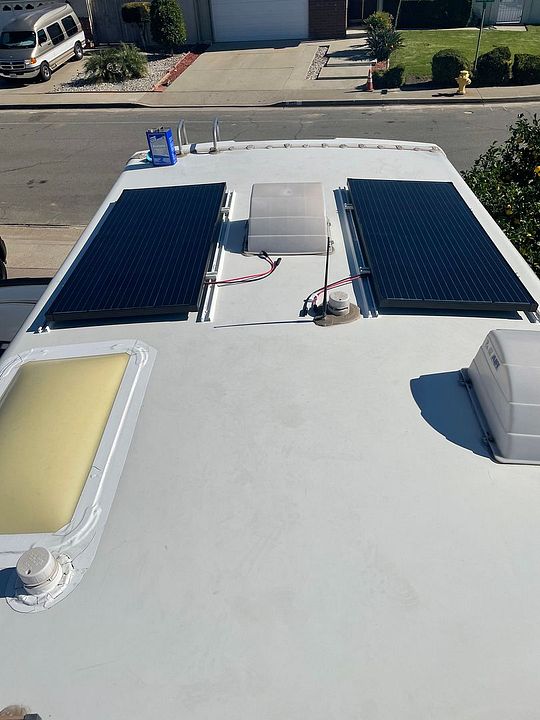 Here's a pic of our 2005 Itasca Sunrise 31W motorhome, off grid with the solar-suitcase I got a few years ago. It was time to upgrade: