Perpetual Newbie & Unofficial Forum Librarian
Staff member
Moderator
Joined

Dec 10, 2019
Messages

4,750
Below is an excerpt from marinehowto.com the source Will 'highly suggests' here for more information on lifepo4 and DIY lifepo4 building. I highly suggest reading the full article, its really really in depth and pretty well written. I learned a ton from it.

The excerpt I am posting relates to balancing. The author advocates top balancing for fractional C, 'off-grid' marine use (but would be just as applicable to on land vehicles and maybe stationary off grid situations). I won't summarize his reasoning here as it is all outlined below. Will and it seems most people here opt to bottom balance their cells. I have two reasons for this post:
Its a request for comment on this method of balancing from those who prefer to bottom balance (or those who top balance)
To share this method of balancing 'Parallel step-method top balancing'
What are you thoughts?
Beginning of excerpt:
A LiFePo4 Build Needs to Begin With Well Matched Cells
Cell Matching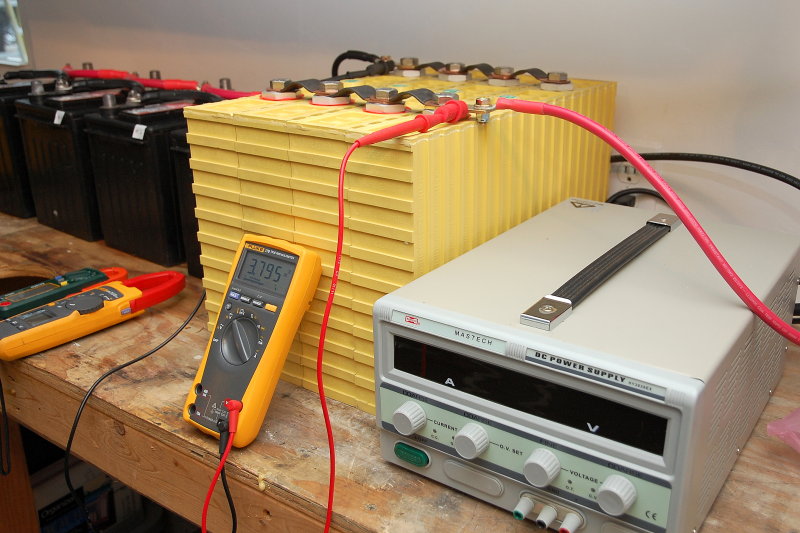 Any discussion about balancing the cells would be incomplete without discussing
matching the cells for internal resistance and Ah capacity
. When I got these cells there was less than a 0.32 Ah difference between the worst cell and the best cell. These cells were made in 2009 and were matched at the factory before being shipped to Balqon. Finding well matched cells today can actually be rather difficult. Over the last 8 years things seem to have gotten worse with LFP cell matching, not better. I really don't know why, but it's what I am seeing.
If you don't build your pack from well matched cells there's not a lot that can be done to keep them in balance when working into the knees, so do yourself a favor and stay out of the knees. If you don't have a way to confirm the Ah capacity of each cell, you're essentially shooting darts blind trying to build your own pack.
Cell Balancing
Cell balancing is an extremely important aspect of LFP banks. When you have lead acid batteries in series they can be purposely over charged/equalized to a 15.5V pack voltage and they will, in a sense, self balance. With LFP banks this will not happen due to the knee ranges. As a cell becomes full the voltage all of a sudden skyrockets and the cells need to be in balance in order to charge and discharge at matched voltages.
TOP BALANCE vs. BOTTOM BALANCE:
There is much controversy over top vs. bottom balance mostly due to confusion over differing uses.
BOTTOM BALANCE:
A bottom balance simply means the cells are balanced at the lowest "safe" voltage and all cells will converge and match exactly at say 2.75 VPC. In the EV world bottom balancing is almost always the preferred method, and makes the most sense. With high loads, and frequent opportunities to completely drain the bank, a bottom balance is critical with an EV pack. In an EV the car is then brought back to the garage and charged with ONE charge source.
Bottom Balance:
1-
Discharge cell using a 20-30A load to 2.50V
2-
Let the cell rest at room temp for 24 hours and allow voltage to rebound
3-
The cell will now be resting somewhere between 2.75V and 2.85V
4-
Apply the load and stop discharging at exactly 2.65V
5-
Allow voltage to recover for about 6 hours
6-
Repeat load discharge to 2.65V until the resting stable voltage of each and every cell is 2.75V
7-
As you get closer and closer to resting voltage of 2.750V a small resistor can be used as opposed to the large load.
Once all cells rest at 2.750V and stay there the cells are bottom balanced.
NOTE:
A guy recently dropped off 4 cells he was having trouble "balancing". He was attempting a bottom balance and intending on using these for fractional "C" use stopping at 70% DOD.. He had spent countless hours trying to bottom balance these cells, and he did.
So what's the problem? The problem is that at a 14.0V pack voltage he had one cell at 3.65V and one cell still at 3.380V!!!! His cells tested at varying capacities and thus the cell with the lowest capacity was firing into the upper knee sooner than the rest, even at a pack charge voltage of 14.0V. These were cells with an absolute MAX cell voltage of 3.600V. With a bottom balance and used cells (I don't suggest buying used cells) he was sending one cell into the dangerous upper knee even at just a 14.0V charge rate. I conducted a top balance for him and the cells now all remain well balanced at the upper charging voltage range. On the low end one cell will still fall off the cliff early, but at 70% DOD that does not happen.
TOP BALANCING:
On boats we have multiple charge sources, shore charger, alternator, solar, wind, hydro or even hydrogen fuel cells. Our risk of cell imbalance is more pronounced at the top end rather than the bottom end. We run a much higher risk of over charging imbalanced cells than we do by over discharging, like the electric vehicle (EV) guys do, but it can still be a risk.. For off-grid / marine use top balancing is quite often the preferred method so the cells converge or are in excellent balance at the top, when fully charged, rather than when dead or fully discharged…
In theory the BMS would always protect the cells at either the bottom or the top end but keeping the cells well balanced ensures an extra level of protection, just as keeping charging voltages out of the upper knee range does. Don't discharge below 80% DOD and have a max charge voltage of 3.5VPC / 14.0V for a 12V bank, and your cells will be very happy.
Whether you choose to top or bottom balance is a personal choice. I chose a top balance for this bank and even after 700 cycles the cells have tended to converge in cell voltage rather than diverge.
PHOTO:
In the photo the four Winston cells have been individually & very carefully charged to 3.75VPC with the bench top power supply shown. The cells were then wired in parallel and allowed to sit for multiple days but weeks or months is even better, if you have the time…
TIP: When ordering cells ALWAYS order extra cell jumpers so that you can wire the cells in parallel and top balance if you choose to do so.
Continued in next post
Last edited: