If using a 5V DC converter to provide power to USB 2.0 style sockets, is it necessary to arrange for current limiting to 500mA (or 900mA), or can you safety hook up a 5V 9A (Max) buck converter module to a USB and assume that any USB device connected will self-limit the current and not damage itself by drawing too much current?

I'm thinking particularly of devices with small 1S lipo batteries which recharge from USB, which maybe don't have good charge circuit protection and perhaps rely on the assumption that the USB socket supply will limit the charging rate.
The USB infrastructure assumes that the load will ask permission before drawing more current (more than 100 mA) and that the source will protect itself, by disconnecting the load if it draws too much current.
If you are controlling both the charger and what loads get plugged into, then do what makes you happy.
Might want to look at this. It is overcurrent protected. I doubt if it does all the USB power negotiation, monitoring and disconnect functions, but if all you want is a 5V power supply with a USB connector it is hard to beat the $4 price.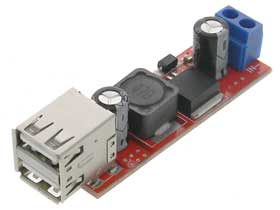 DC-DC Buck Converter Module using LM2596 IC Terminal strip input, Dual USB Type A Jacks Out. [Input:] DC 6V-40V. [Output:] 5V / 3A Max. Efficiency: 92% Max Switching frequency: 150KHZ Operating Temperature: -40°C to + 85°C