Joined

Oct 26, 2021
Messages

11,852
Location
For those familiar with my post-whoring ways, this subject line is likely quite shocking.
Just trying to make a point...
Seemed a good lead into the question.
The answer?
Because Victron is worth it. It's a small company run by people who give a shit and care about their product, its performance, features and the user experience.
Problems?
5 year warranty - can be serviced by any Victron distributor. Can upgrade to a 10 year warranty for 10% the purchase price. If you have a problematic distributor, you can submit a warranty claim directly through Victron. Someone claiming Victron doesn't honor warranties is doing it wrong.
Community forum - not 100% successful, but most legit questions/issues get addressed either by Victron, Victron installers or power users.
Wealth of information available online.
Documentation is continually improving.
Wiring Unlimited.
Features?
Son of the founder personally oversees the development of the Venus OS.
New features based on user requests or new equipment are regularly added to all types of hardware.
Firmware updates to older hardware is still actively released due to the newest hardware sharing common firmware even if not all features are available on older hardware.
Why do I have blue smudges on my lips from all this Victron butt-kissing?
Because Victron does shit like this: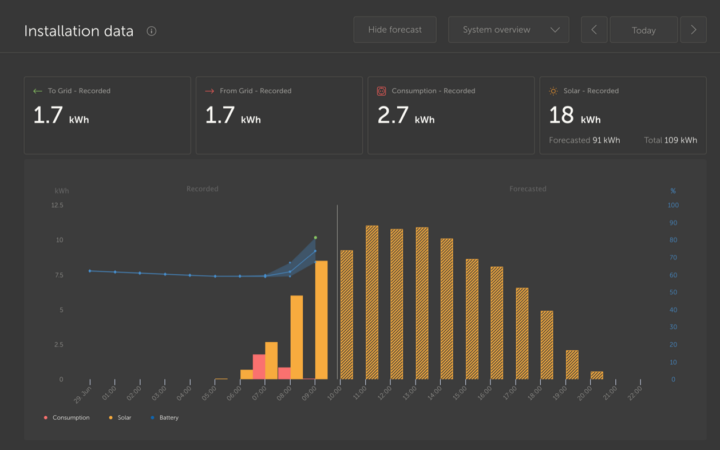 VRM Solar Forecasts combines Victron's model of your sites solar production potential, and integrates irradiance forecasting data from Solcasts global fleet of weather satellites.
www.victronenergy.com
Then, after a month of feedback from users and obvious improvements, they pull this shit:
I've personally watched my own system get increasingly more accurate.
Why in the world offer this feature? How can it possibly benefit the company? Because it's run by people who love this stuff. They see the value, they use their own hardware, and they probably just think, "dang... this is really cool."
I'm confident in saying that there's no other company on the planet in this space that is this actively engaged with their user base.